was given the task of upgrading this famous Amphitheater and the nearby Carousel in March 2010. The project was successfully completed in May 2010 just in time for the June school holiday.
  The amphitheatre roof is a half ellipsoidal dome of steel and ADASTM PTFE-coated tensile fabric. The elliptical curvature of the roof provides its own tension, which leads to less material being used hence a lower weight and cost. The main roof comprises of six numbers of planar trusses, built using hot dipped galvanized circular hollow sections and connected together with an innovative cruciform connector. The lateral connections are formed by the secondary planar frame resulting in strong and rigid structure which facilitates the transfer of wind and rain loads from the tensile membrane roof to the columns and finally to the foundation. This state of the art ADASTM tensile membrane roof covers a seating and performing area of 1000m2 , with 45m of clear span between the supports, providing sufficient space for the various animals to showcase their acrobatic skills and entertain the audience. The height of the column is 15m, providing an unobstructed view of the magnificent Mandai Lake.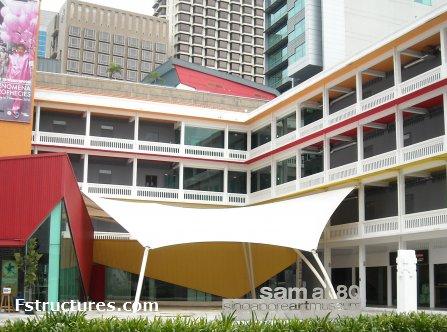 [email protected]
is a structure based from non conformist architecture.The structure is very unique with the fusion of simplicity and edge, rightful to be called as an "art" itself. And with this, the setting of the appropriate canopy at the grounds of SAM is challenge enough to be won.
The construction of the tensile membrane roof began in September 2010 and was completed in November of the same year.
The canopy may be perceived as symmetrical on first glance, but the more the spectators view the design, it will be found diametrical.